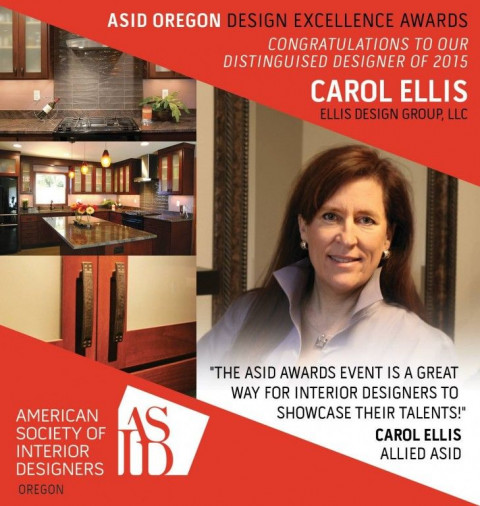 Are you a homeowner who...has great taste and desires a fabulous interior and exterior living and entertaining environment, but are confused by how to pull-it-together?
Are you building a new home or wanting to remodel and don't know where to begin?
Are you overwhelmed by too many options, styles and colors to choose from?
Are you struggling with your existing or new furnishings, art, accessories and window treatments?
Are you tired of the stress of making design mistakes and wasting money?
If so, I know exactly how you feel. There is no better reward than a fabulous home. Ever wish for a home makeover... Where you can peel away everything overwhelming you, causing you stress and everything that's out of alignment with your true home vision... And create a living environment that reflects your personality, style and color preferences.
You deserve a beautiful home that is uniquely yours...
Hi, I'm Carol Ellis, expert style, color and interior designer, and co-founder of Ellis Design Group, LLC. My clients often come to me feeling frustrated, confused and overwhelmed about how to create the living environment of their dreams. Using my proven Interior Design system, I help them to quickly and easily understand their style and color preferences and create the living environment that suits their lifestyle. I walk them, step-by-step, through the process of turning their home, into a place that they can enjoy and relax, entertain guests, and be proud to own. Together, we review areas in the home which are causing dissatisfaction and discuss design and color options that are more satisfying to them. We develop a plan which works with their timeline and budget to bring their design vision to reality. Then we take action so that they achieve the fabulous living environment they desire. All accomplished without frustration, stress and overwhelm.
Whether you're just starting out and need a trusted mentor to guide you toward your unique interior design, or have been working on your home for a few years and want a serious jump-start to the next level, I can provide you with SIMPLE DESIGN SOLUTIONS for your home design challenges. Work with me, and you will discover that designing your home can be a fun, exciting and gratifying experience.
Let's get started... I'd like to invite you to participate in an Interior Design Strategy Session where we can discuss your current interior design goals and how we can work together to achieve them.
Contact me to share your own interior design struggles, ask key questions, and talk about proven SIMPLE INTERIOR DESIGN SOLUTIONS, free of charge... at today!
I am looking forward to meeting you,
Carol Ellis, Allied Member ASID
Ellis Design Group, LLC
www.ellisdesigngroupllc.com
http://www.facebook.com/EllisDesignGroupLLC
Specialties
Accessories
Accessorizing
All Budgets
Art
ASID
Bathroom Design
Bathroom Remodel Eugene
Before You Begin Designing Your New Home
Blinds
Builders Models
Cabinets
Carpet And Area Rugs
Chemical Sensitivity Design
Children's Rooms
Childrens Rooms
Closets And Storage
Color Consultant Eugene
Color Consultation
Color Consultations
Color Consulting
Color Scheme
Color Specialist
Commercial Design Eugene Oregon
Commercial Interior Design
Complete Home Remodels
Computer Aided Design
Condominium Furnishing
Consultation
Consultations
Contemporary
Curb Appeal
Custom Bedding
Custom Cabinetry Design
Custom Carpets
Custom Draperies
Custom Draperies Upholstery
Custom Drapery
Custom Furniture
Custom Furniture And Built-ins
Custom Home Furnishings
Custom Interior Design
Custom Window Treatments
Design
Design Consultation
Draperies
Entertainment Unit Design
Ethnic Interiors
Eugene Home Designer
Eugene Kitchen Remodeling
Eugene Remodel
Family Friendly Design Services
Faux Painting
Furnishings
Furniture
High End Residential
Home Office
Home Staging
Home Staging Eugene
Hospitality And Corporate Designs
Hospitality Design
Installation Services
Interior Architecture
Interior Design
Interior Designer Eugene
Interior Trim & Moulding
Kitchen & Bath Remodeling
Kitchen Design
Kitchen Remodeling
Kitchens
Lighting
Lighting Design
Limited Budget
Media Rooms
Moorish Style
New Construction
One Day Room Makeovers
Outdoor Furniture & Fabrics
Personal Shopping
Procurement Services
Project Management
Redesign
Remodeling Eugene
Renovation & Remodeling
Residential
RESIDENTIAL DESIGN FOR AGING IN PLACE
Restaurant Design
Reupholstery
Room Re-Designs
room Re-styling
Scaled Drawings
Site Accessibility
Space Planning
Theaters
Thematic Design
Tile Layouts
Traditional
Transitional
Transitional And Mediterranean Designs
Universal Design
Upholstery
Vacant Home Staging
Wallpapering
Window Coverings
Window Treatments