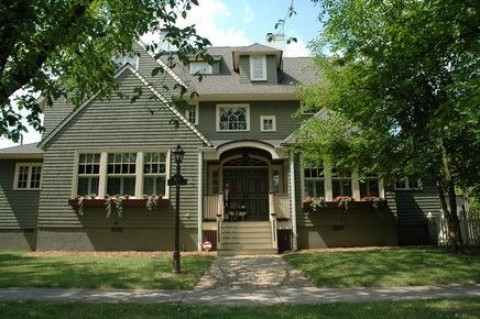 David Del Vecchio, AIA, CID, LEEDap, is a licensed architect in New Jersey and New York, NCARB certified, a Certified Interior Designer in New Jersey, and a LEED Accredited Professional (USGBC) in Sustainable Design.
His educational background also includes Graphic Design. He is also a licensed building inspector(RCS).
Mr. Del Vecchio's design work has included everything from retail prototype design to boutique retail stores, restaurants to car dealerships, single family residences to commercial office tenant fit-outs, synagogues to Unitarian churches, early childhood daycare to accessible designs for elderly parent "in-law" suites. Interior projects have ranged from 35,000 square foot offices for government agencies, non-profit corporations, and private corporations to detailed exterior and interior architectural millwork designs incorporated into single-family home renovation projects.
Personal clients, and Projects while employed at other architects' offices, have included Habitat for Humanity, America Cancer Society, Theradex (investigational studies for oncology medications) NJ DEP, McDonald's (Manhattan and Philadelphia prototypes, Fendi, 6th Avenue Electronics, Autoland, doctors offices, plumbing showrooms, storefront design for small mom-and-pop cafes, and a restaurant in a converted airplane hangar at a local regional airport, to name a few. If you live, work, or play there, David has probably designed one of those.
David Del Vecchio, Architect, LLC works has working relationships with several Design-Build entities, offering a single source of responsibility for your project.
Each project has its own specific programmatic criteria that along with the Owners' budget and scheduling requirements, help establish the scope of the project. On complicated projects, I assemble a team of skilled professionals who specialize in various design disciplines; while on smaller projects, the all design is more often handled in house. I work with several interior designers on small projects, but handle most of the furniture and finish selections for the larger projects.
My practice has also included forensic investigations and expert witness services for litigation support in cases involving homeowner-contractor disputes, alleged negligence in architectural and interior design (2 casinos in Atlantic City), EIFS (synthetic stucco) failure and mold in residential construction, home remodeling gone bad, copyright and intellectual property issues, and illegal practice.
A note about the regulations meant to protect the health safety and welfare of the consumer:
As a service to the consumer, I thought you ought to be aware of the applicable regulations so that you can make an informed decision before you hire a designer.
This is not meant to downplay the contributions that any talented individual may bring to a project, rather it is to clarify the proper roles allied design professionals are allowed to play in a project involving a construction permit, in accordance with State licensing laws.
This is not legal advice, but merely my understanding of the licensing regulations here in New Jersey, which are easily verified by a call to the State Board of Architects.
If your project requires drawings to be submitted to a municipality for a construction permit anywhere in the State of New Jersey, you need to hire a licensed architect to prepare those drawings, except in the case of a project involving an owner-occupied, single family residence, where the owner personally prepares their own drawings, including all the necessary information required to substantiate a permit for construction. There is no exception for any non-residential project in New Jersey.
I would encourage you to visit the website of the New Jersey State Board of Architects, which also regulates Certified Interior Designers, before you hire any person to prepare the construction documents necessary to support a permit for construction.
http://www.state.nj.us/lps/ca/arch/arch_rules.htm
Membership in a professional organization, while demonstrating a certification level of commitment to one's profession, does not bestow any special rights or privileges, or indicate one's competence to provide certain design services. You need to check with the appropriate regulatory board in your State to determine whether a person is licensed to practice.
http://www.state.nj.us/cgi-bin/consumeraffairs/search/searchentry.pl?searchprofession=210
It should be noted that it is not required that an interior designer be certified to practice interior design in New Jersey. Certification protects the title "Certified Interior Designer". Non-certified designers are still not allowed to practice architecture without a license. If it involves any new or change in the structural system of a building, or changes to any building system, and the main purpose of the building is for human habitation, then the project is an architectural project.
Many interior designers practicing in New Jersey simply do not understand the regulations as evidenced by their improperly and illegally offering "interior architecture" services and "construction documents".
Interior deign is not interior architecture unless it is performed by a licensed architect. In fact, it is illegal for anyone other than a licensed architect to use the term "architect", "architecture", or "architectural" in any advertising for building design services.
"Construction documents are those documents prepared to support an application for a permit for construction.
There is some practice overlap between Professional Engineers and Registered Architects, as well, but please note that PE's cannot prepare drawings to support a permit for residential projects. PE plus CID does not equal Architect.
Similarly, Landscape Architects can not perform architectural services related to a building meant for human habitation. Registered Architects, on the other hand, may perform landscape design services and limited civil design services, but cannot cal themselves Landscape Architects or Civil Engineers, unless they are licensed in those disciplines as well.
Rather than take my word for it, you should consult with your local code official and ask him about this.
If after you've read the applicable regulations, you find that you still need guidance, I'd be glad to take the time to discuss this in more detail so that you can make an informed decision about who to hire to prepare your construction documents.
If "Design-Build" is what you are looking for, I can explain those regulations as well.
New Jersey Registered Architect: License #11758
New Jersey Certified Interior Designer: Certificate #74