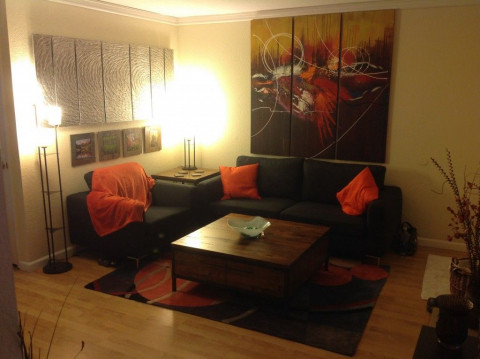 About Unique Designing Creations
Since I was a little girl I have been creating unique spaces. I was always changing things around, and trying to improve everywhere I went.
I have been working in design for over 10 years and decided to finally go out on my own and open my interior design company. Working for tile companies when I started out gave me the inside advantage to how interior designers operated. I found that I was able to do a more cost effective option while giving my clients what they truly wanted by listening both to what they say and what they don't say and truly want. By listing, I found I was able to provide the look they wanted and not limit myself to one specific look like so often I find other interior designers seem to limit themselves too. The result: I help my clients to create THEIR space as UNIQUE as THEY are! It has been such a success through the years that I finally felt I had enough experience to go out on my own and open my own interior design company that has proven to be truly unique one of a kind creations taylored specific to each individual client. I have never duplicated my work and the genuine smiles and amazement on my clients faces once the look is complete makes it so rewarding. I love my job!
Services
I help clients design their space to be as unique as they are....truly one-of-a-kind. I never duplicate my work.
*Specializing in Kitchen and Bathrooms, Modern Style Design, and design work from house plans*
I provide detail drawings, and have my own Sub-Contractors I prefer to use to ensure you get the best possible look for your money.
The various areas I can help with: color palette, paint colors, flooring (tile/stone/slate/etc., hardwood, laminate, vinyl, carpet), slab selections, furniture and furnishings, art, accessories, lighting options, window coverings, detailed drawings of layout and footprints, budget/planning, appliances/fixtures/knobs/etc., and referrals and coordination of sub-contractors needed.
Specialties
Accessories
Accessorizing
Art
Bathroom Design
Bathroom Remodeling
Bedding
Carpet And Area Rugs
Cast Faux Stone
Children's Rooms
Childrens Rooms
Color Consultation
Color Consultations
Color Consulting
Commercial Design
Commercial Interior Design
Complete Home Remodels
Condominium Furnishing
Consultation
Contemporary
Custom Bedding
Custom Cabinetry Design
Custom Carpets
Custom Draperies
Custom Furniture
Custom Home Furnishings
Custom Window Treatments
Design
Design Consultation
Design Work From House Plans
Draperies
Family Friendly Design Services
Flooring
Furniture
High End Residential
Holiday Decorating
Home Office
Hospitality Design
Interior Design
Interior Trim & Moulding
Kitchen & Bath Remodeling
Kitchen Design
Lighting
Limited Budget
Media Rooms
Modern Design
New Construction
One Day Room Makeovers
Outdoor Furniture & Fabrics
Personal Shopping
Project Management
Redesign
Renovation & Remodeling
Residential
Residential Design
Restaurant Design
Reupholstery
Room Re-Designs
room Re-styling
Scaled Drawings
Slipcovers
Space Planning
Stenciled Walls And Floors
Theaters
Thematic Design
Tile Layouts
Traditional
Transitional
Transitional And Mediterranean Designs
Universal Design
Upholstery
Wallpapering
Window Treatments