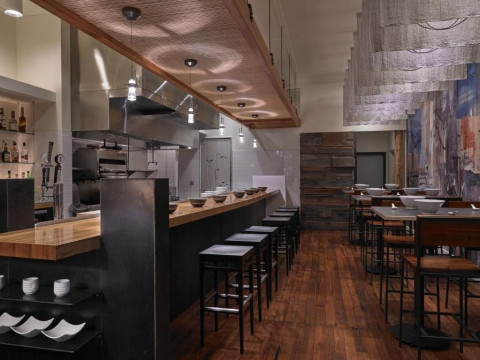 Our design approach is based on the creation of a fully integrated team comprising of Owners, Architects, Contractors, and Craftsmen. We believe that a team approach starting in programming phase and following through the final contract documentation creates the best possible results. This pairing reinforces our philosophy of creating design solutions that seamlessly address all the issues simultaneously providing complete cross-discipline pollination and communication.
As a result, the client has the confidence of knowing that there is unobstructed communication between all disciplines. It offers you a responsive design team that can facilitate changes, modifications and required studies in a quick and efficient manner. This "one stop" approach to the design allows you to be interactive with a variety of team members simultaneously moving the project forward in a cost effective and timely manner.
All projects are produced in CAD (computer Aided Drawings). We do the initial schematic concepts hand drafted to capture the creative connection between mind, eye and hand. Once approved it is input into CAD. This facilitates revisions, changes and modifications quickly and easily. Our interior design documentation includes complete construction drawings, lighting specifications & switching plans, finish specifications, plumbing specifications, hardware specifications, and door schedules (if required).
With over 37 years of experience,Larry Wilson, ASID, IIDA has been recognized by IIDA, ASID, AIA, and has been honored with the prestigious international Gold Key Award for Excellence in Hospitality Design, the Dupont Antron Award, the Solutia Doc Award, and is an IIDA National Interior Design Competition award winner. Larry was honored with the Bud Merle Foundation Award in 2003 for his leadership and design excellence in the state of Florida and as an Alumni of Distinction by the University of Florida's College of Design, Construction, and Planning in 2002.
Specialties
Accessories
Art
ASID
Bathroom Design
Color Consulting
Commercial
Commercial Interior Design
Complete Home Remodels
Computer Aided Design
Consultation
Contemporary
Contract Documents
Custom Cabinetry
Custom Cabinetry Design
Custom Carpets
Custom Furniture
Custom Home Furnishings
Custom Window Treatments
Design
Design Consultation
Family Friendly Design Services
Fin
Furniture
Healthcare
High End Residential
Home Office
Hospitality
Hospitality Design
Interior Architectural Detailing
Interior Architecture
Interior Design
Interior Trim & Moulding
Kitchen & Bath Remodeling
Kitchen Design
Lighting
Lighting Design
Limited Budget
Millwork Design
NCIDQ Certificate Number 02
New Construction
Outdoor Furniture & Fabrics
Plumbing Specifications
Procurement Services
Programming
Renovation & Remodeling
Residential
RESIDENTIAL DESIGN FOR AGING IN PLACE
Restaurant
Restaurant Design
Retail Design
Room Re-Designs
Scaled Drawings
Senior Living
Space Planning
Transitional
Transitional And Mediterranean Designs
Universal Design