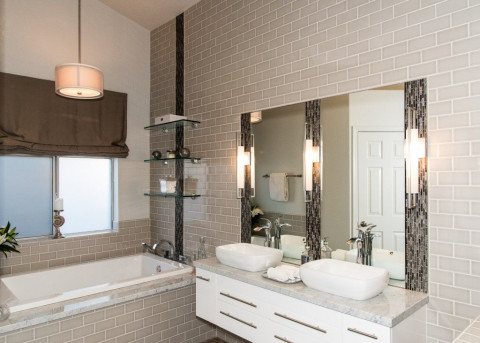 A full-service interior design firm in Scottsdale, Arizona, Cosa Belle Interiors specializes in residential and commercial interior design. Find everything you need to create, refine, or reinvent style. The possibilities for inspiration are endless.
When you walk into one of the spaces designed Cosa Belle Interiors, you are immediately aware something is different. Rather than seeing a space that is overly lavish or drab and monotonous, you are drawn into a place where function and design fuse imperceptibly together.
Debbie Winard, principal of Cosa Belle Interiors, has over 10 years of interior design experience in residential, commercial and hospitality spaces. She brings to the table creative design solutions that place an artistic signature on each project, creating the desired mood or feeling of the overall space. Spanning throughout the Southwest, her designs are rich in energy and reflect the philosophy that an environment should feel as good as it looks.
Skillful space planning brings about interior solutions. Debbie's expertise is available to help you find those solutions and turn your spaces into warm, functional and aesthetically sound living and working areas.
Cosa Belle Interiors is available for regional and nationwide projects.
Specialties
Accessorizing
Art
Bathroom Design
Children's Rooms
Childrens Rooms
Closets And Storage
Color Consulting
Commercial Interior Design
Complete Home Remodels
Computer Aided Design
Condominium Furnishing
Contemporary
Custom Cabinetry Design
Custom Carpets
Custom Furniture
Custom Home Furnishings
Custom Window Treatments
Draperies
Family Friendly Design Services
Faux Painting
Furniture
High End Residential
Home Office
Home Staging
Installation Services
Interior Architecture
Interior Trim & Moulding
Kitchen & Bath Remodeling
Kitchen Design
Lighting
Lighting Design Specialist
Limited Budget
Media Rooms
New Construction
Outdoor Furniture & Fabrics
Renovation & Remodeling
RESIDENTIAL DESIGN FOR AGING IN PLACE
Reupholstery
Room Re-Designs
Scaled Drawings
Space Planning
Tile Layouts
Traditional
Transitional And Mediterranean Designs
Universal Design
Upholstery
Wallpapering
Window Treatments